Volumetric Ambient Occlusion 2.0 Demo
We provide a free evaluation version of our VAO Unity plugin (with watermark).
It contains all the features of a full version, except it does not run on Unity 5.6 (only Unity 2017.2 and higher). Please note that the new temporal algorithms may render a few artifacts, which are only visible in the editor - not in the play mode. This does not apply to the full version.
If you like VAO and want to use it please buy it at Unity Asset Store to support its development. Also let us know what you think, your feedback is welcome.
Also See: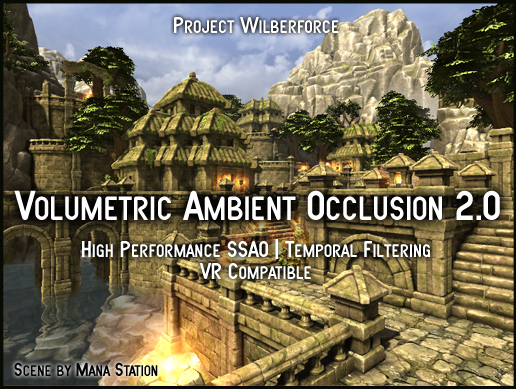 Installation
From Unity menu select Assets -> Import Package -> Custom Package…
Locate and select file VolumetricAmbientOcclusion_2_0_Demo_Small.unitypackage
Click Import
Attach Volumetric Ambient Occlusion effect to Camera and you can change settings in the Inspector.
For more details on the settings check the plugin user guide
In case of questions or further issues, please contact us at projectwilberforce@gmail.com